It isn't a club and there are no "membership dues" It is all donation basis.
ARIZONA BACK COUNTRY RIDERS
is a web site of forms with different discussion topics.
Besides discussions on various topics the members plan rides and meet up and trail ride and when they get home they write about their adventure on "Ride Reports". If anyone has taken pictures they load them on "Photo Bucket" and add them to their stories much like I do on "My Riding Journal". If it weren't for "AZBCR" I would have never found so many nice folks to trail ride with all over Arizona.
Once a year they plan a "Fundraiser Ride / Camp Out" to raise money for the expenses of keeping the website online as they do not allow advertising at the site.
This year the Fund Raiser Ride was planned for March
12th - 14th.
The same location as last year a few miles West of Lake Pleasant in Maricopa County. A few members showed up the 11th to clean up all the trash that inconsiderate people had left all over...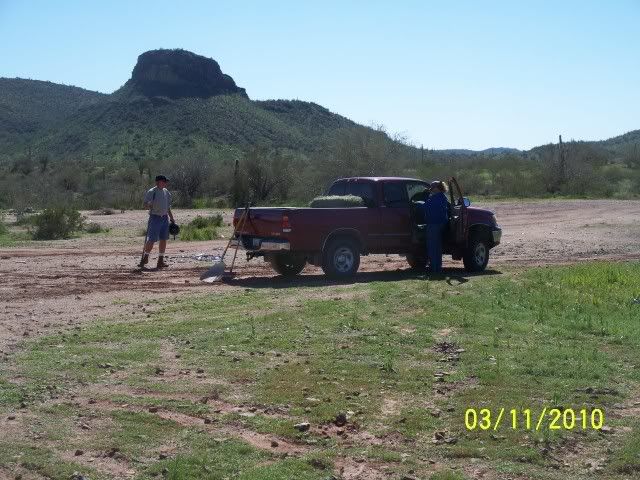 I originally planned to get there early Saturday morning but it had been a long week so I wasn't as prepared as I had hoped and took more time to get things loaded and get Mocha ready for the trip. I left the house about 8Am and rolled into camp about 10:30, just in time to catch a glimpse of the last people heading out on the AM trail ride.
There wouldn't be anything going on till that evening so I found a nice flat spot way in the back and took my time setting up my camp site.
Instead of using the tent where scorpions or rattle snakes could crawl underneath for warmth I pulled the mat out of one side of the horse trailer, swept it out, laid down a tarp and sacks filled with hay than layered sleeping bags and blankets on top. It made for a cozy warm place to sleep but I sure was wishing I had a camper about 5am Sunday morning when I had to crawl out!
(Can you see my "night light"?)
After setting up camp I took Mocha for a walk around to get him settled with the new surroundings and chatted with some of the other members than brought Mocha over to meet "Madeline" the Mini Donkey.
He was afraid of her so it took a little time
before he would get close enough to touch noses...


Everybody had to visit the Mini...
She is such a darling little thing...

After feeding Mocha his dinner I walked over to the campfire area where I found several members sitting around waiting for the raffle drawing and the catered dinner to start...


Time to get in line for chips and salsa..



The Raffle and Dinner ...

Starting up the Camp Fire..

Lining up for the dinner...

Mmmmmm DESERT!

The line is growing...


The raffle ended shortly after dark. I didn't win anything but I did buy an AZBCR baseball cap.
I didn't stay for the campfire gathering because I had a headache from too little sleep the night before and my stomach was hurting a little from the spicy salsa :(
From the stories I heard the next day I am sorry I missed it.
Sunday morning I fired up the camp stove and put on the coffee and heated up a can of vegetable beef soup for breakfast...
... and waited for the warmth of the sun to come over the hill...
After breakfast I saddled Mocha up and set out to find out if anyone would be riding to the lake that morning since I got in to late for the big planned ride to the lake the day before.
I found someone who knew who was going and waited till everyone was ready.
And we headed off for the lake ...
There were a lot of rocks but Mocha did fine barefoot (no boots) all the way!




Finally getting to the lake...

Mocha wouldn't go in the water and I didn't want to hold everyone up trying. He wouldn't even get close enough to get a drink and with everyone walking on down the bank I couldn't work with him , he didn't want to be left behind.


Heading back to camp ..



Oh wait- potty stop first..

As we were leaving another small group was just getting there so I tagged along with them for a second chance to get mocha to go into the water...


Yes Mocha we are going back to the lake...

Thinking about stepping in but mostly trying to figure a way out of it...

He just wanted to chew on a weeds, I had to wade out there up to my knees to convince him it was ok, Silly Arab..
Almost..!

Woo Hoo! two feet!..
Come on Mocha, just two more, pleeeese...



See how it's done...



FINALLY!!!!
Accomplished what I came here for!


Heading back, an RV stopped and waited for us to cross..



Picture break -




Have to get that shadow shot..



Mocha says "Ahh "home" at last...

As I headed out of camp a couple of people were holding back traffic...
They chased a rattle snake out of their camp and followed it all the way to the other side of the road to make sure it got away safely...


I offered to run it over with my truck as it would have made a nice hat band but they wouldn't let me. I guess they don't wear hats so they don't need a hat band. Lol...
Thanks to those nice people you aren't in my freezer!